---
To pause and read the Grand Master's program below,
click pause and then use arrows to flip pages
or click on page number at left.
GRAND MASTER'S REPORT


TO THE GRAND LODGE I.O.O.F. OF TEXAS: Brothers: As we prepare for our Grand Lodge session, it is time to stop and reflect on what has occurred in the past nine months. I am sure each of our Past Grand Masters have set goals that they would like to reach. Being no different, I also set a number of goals, some of which I feel good about, but more of which have not been fulfilled.
The position of Grand Master is an awesome spot to be in for every failure of our Order is a reflection of the leadership or lack thereof. I will tell each of you brothers, I have given the job my best effort.

While the ultimate responsibility falls on the shoulders of the Grand Master, each member of our Order must also be responsible for the success or failure of what happens by the amount of interest and work he has put forth.

According to he Code, the Grand Master has certain obligations with regards to visits to lodges and districts. These I promise I have more than fulfilled. Having travelled more than 30,000 miles so far, and many more to come, you can see that this is a very time-consuming obligation.

Let me take this time to thank the other Grand Lodge officers who have put forth their best efforts to change the direction our Order has been going for a number of years. If nothing else has been accomplished this year, I am very grateful for the efforts of our other branches - Encampment and Canton's leadership in closing ranks to make our Order a monolith rather than three different parts. My congratulations to each of you who have been involved in this effort. We have instituted three new Junior Odd Fellow Lodges within this last year and have two more which are working as we speak. This is quite an accomplishment for this is a great resource from which to gain new Odd Fellows in the years to come.

To those lodges who have brought in new members this year, my congratulations for you are an inspiration to the rest of us. Keep up the great work!

Remember, working together, WE can make a world of difference.

Fraternally yours,
Howard Holmes,
Grand Master

---
---
Powered by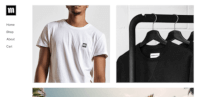 Create your own unique website with customizable templates.