PGM Henry Wagenfuhr
I.O.O.F. Grand Master of Texas in 1887
From: Columbus, Texas

PGM Henry Wagenfuhr's became the Columbus Fire Chief. The above photo is entitled "

Columbus Fire Company greeting. It is possibly the Columbus Cornet Band meeting the train of gubernatorial candidate John C. Ireland in July 1882.
---
In Remembrance
With profound sorrow the CITIZEN announces the death of Mr. Henry Wagenfuhr, county clerk of Colorado county, and one of the most prominent and useful citizens of Columbus. He passed away at 9 o'clock last Sunday night, of a complication of diseases, the heart, liver and kidneys being affected. Henry Wagenfuhr was born October 7, 1848, at a small village called Rohden, Prussia, and came to Texas with his parents in 1850, settling at New Braunfels, Texas. He resided there with his parents until he was twelve years old, receiving only three years schooling at the public school at that place. He then started out in life on his account, serving an apprenticeship at the saddler business, and worked at the trade for four years in New Braunfels and Columbus, and at various other callings. In 1869 he became Deputy Postmaster at Columbus, Texas, in which capacity, in connection with clerking in a general merchandise store he acted until December 1872. On the 17th of December, 1872, he was sworn in and acted as Deputy District Clerk until April 18, 1876, he having been elected County Clerk February 15, 1876. He qualified as County Clerk April 18, 1876, the duties of which office he has since continued to perform, through election by the people, which is a sufficient commentary upon the satisfactory manner in which those duties have been discharged. March 19, 1873, he was married in this city to Miss Henrietta Kulow, who, with five children survives him.

Mr. Wagenfuhr was a member of the Masonic fraternity, and Odd Fellow, K. of H., K. & L of H., A. L. of H., K. of P., A. O U. W., Hermann Soehne, and the Columbus Fire Department, all of which orders were present at the funeral ceremonies last Monday. He was Grand Master of the I. O. O. F. of Texas from February, 1887, to February, 1888, and in 1889 a representative to the Sovereign Grand Lodge which assembled at Columbus, Ohio. In all these orders he was a worthy and working member, and in most of them had been honored by his brethren with the principal chair, and took great interest in acquiring their laws and rules of benevolence and charity. He was examined and admitted as an attorney at law by the District Court of Colorado county, September 21, 1885. When twelve years of age he was confirmed in the Lutheran church at New Braunfels, of which church he died a member. He was essentially a valuable and useful man to our city, working in many ways to its advantage, and taking great pride in all things conducing to the prosperity and advancement of Columbus; and no one of our citizens could be more sadly missed by this community. His funeral was one of the most largely attended of any we have ever witnessed in the place, many of his friends in different parts of the county being present to join in the sad rites. He was buried with the beautiful and impressive ceremonies of the Masonic fraternity, Rev. G. H. Collins assisting at the house and grave. To his bereaved relatives and friends we extend sincere sorrow; and though we know no words of condolence can mitigate the pangs of death, or light the shimmer and gray of the solemn tomb, yet this sentiment is commended as affording surcease from the deep-seated gloom:

"Weep for the days that will come no more, For the sunbeam down from heart and door, For a missing step, for the nameless grace Of a tender voice and loving face. But not for the soul whose goal is won, Whose infinite joy is just begun; Not for the spirit enrobed in light, And crowned where the angels are tonight." Colorado Citizen, September 22, 1892, page 3


---
---
Powered by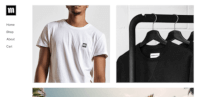 Create your own unique website with customizable templates.